Summary
Expectations for digital experiences have never been higher. To keep up with customer demand, leading brands need a way to establish a direct line to the customer's voice, collect and analyze customer feedback, and act on that feedback to consistently deliver best-in-class experiences. With Medallia's Digital CX In-the-Moment Package, you can create these intuitive and personalized experiences—both individually and at scale—by leveraging the power of direct feedback.
This solution enables both proactive and passive feedback engagement types on any digital property, including websites, mobile applications, connected devices, or within software applications, about any topic such as content effectiveness and relevance, product ease of use, task completion or abandonment, and overall satisfaction & likelihood to recommend the brand. Your team can review feedback by activity, sentiment, and source to understand the full picture behind each experience and compare this to previous feedback experiences as well. And, you can effortlessly design and launch feedback programs with an intuitive, self-service interface, to help you scale your program to keep up with your customers' rapidly evolving expectations.
Medallia's Digital CX In-the-moment Package empowers both strategic and operational teams to drive customer acquisition, conversion, satisfaction, and engagement while creating the conditions that strengthen loyalty for their brand and operational success across their organization.
What's Included:
Deploy feedback in any channel: web/mobile web, mobile app, software applications, and connected devices
Self-service survey builder access providing complete design, content, and targeting logic control for unlimited feedback engagements with dynamically-generated matching reports
10+ pre-built survey forms leveraging a question bank of 70+ questions covering General CX, Product, and Content Effectiveness feedback moments (e.g. Ad Interaction, Consideration, Always-On, Abandonment, Content Embedded survey, Post Transactional invites, etc.)
Pre-built alerts for critical changes in program, including detractor, low score, unresolved task, and low score + screenshot
Multiple pre-built dashboards with role-based specific reporting for titles including CX, Product Managers, Marketers, and Content Owners
Support for integrations with digital technologies both onsite and back-end
Text Analytics Topic Starter Set (add-ons available)
License Requirements:
Medallia Experience Cloud (with Experience Data Records) OR
Medallia Experience Cloud Digital Base Edition
Languages:
Pre-configured translations will be provided for
English, Spanish (Spain),
Spanish (Mexico),
French (France),
French (Canada),
German, Italian,
Portuguese (Brazil),
Japanese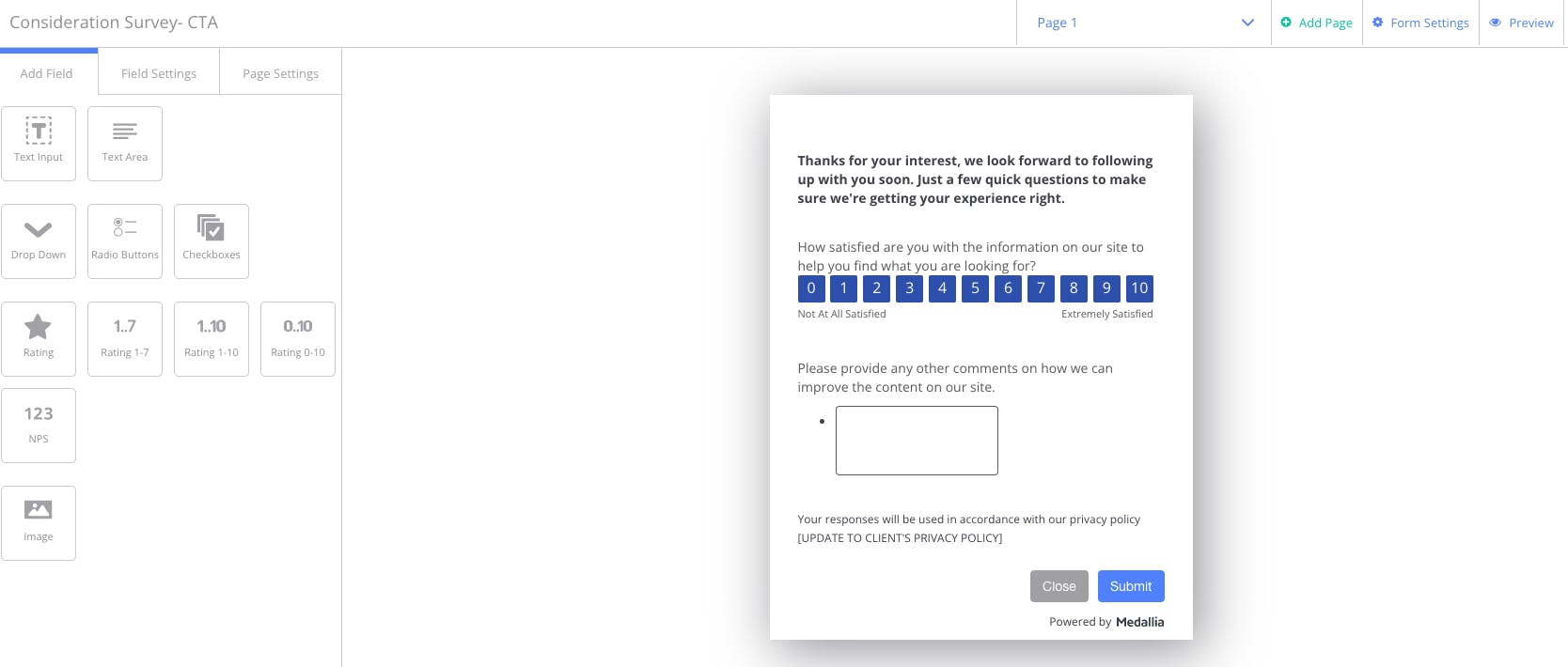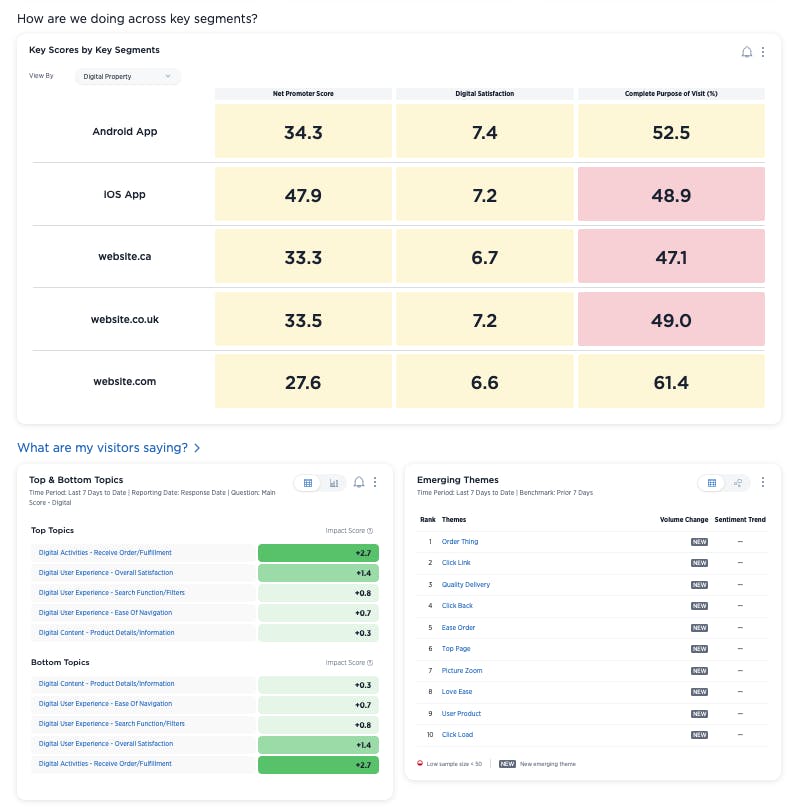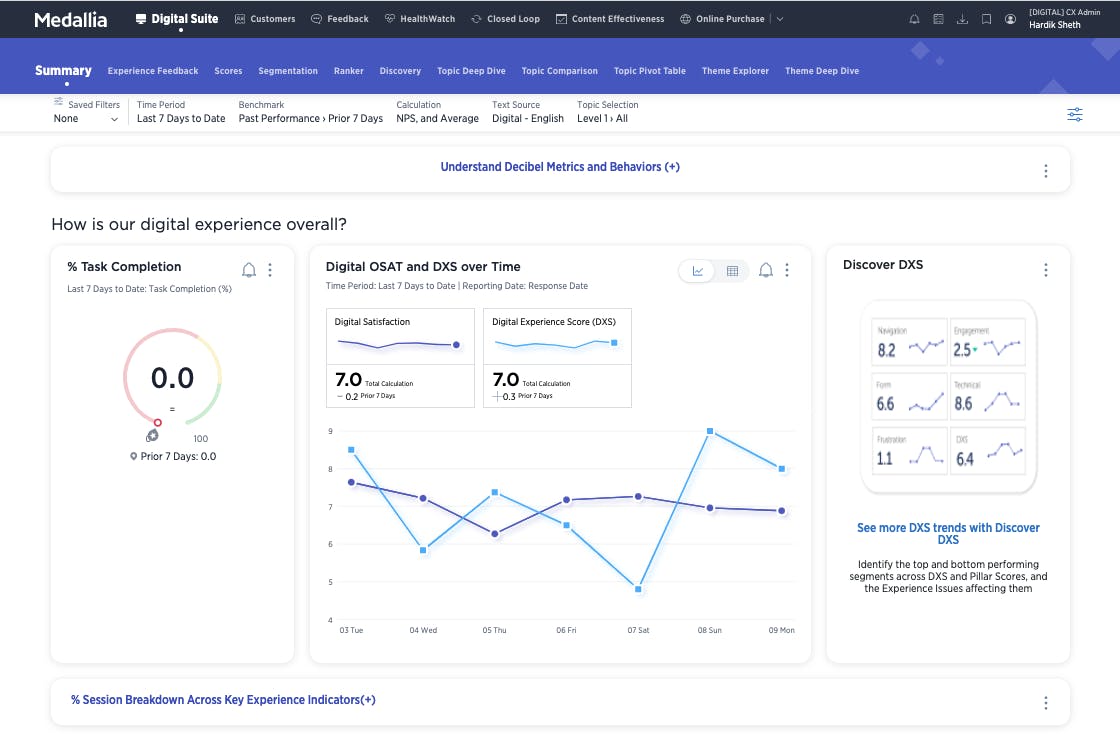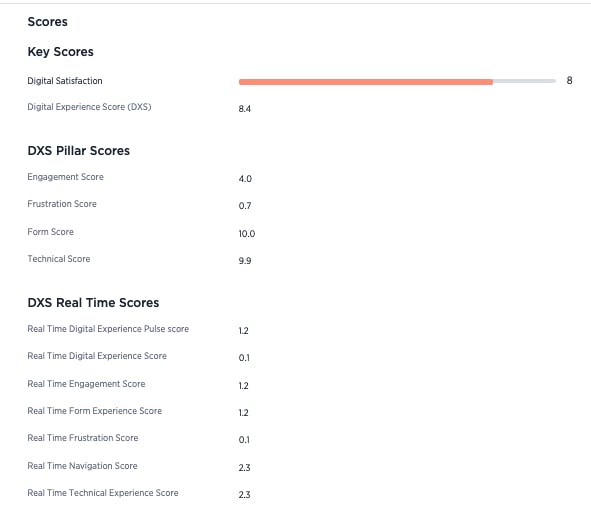 Schedule a Consultation with an Expert
Thank you
Your message has been received and we will contact you shortly.